It's colorless, flavorless, and doesn't get enough credit for how great it is: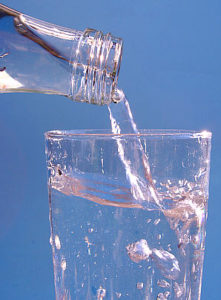 We're talking about water! Here are some of the great things water does for you:
Water keeps you cool. Drink it, spray it, dump it on yourself, jump in it—there's really no bad way to use water to cool down.
Water helps your skin look its best. When you're dehydrated, your skin can be more prone to wrinkling and cracking.
Water helps prevent bad breath. That's right—one of the most common causes of bad breath is dehydration. When there's not enough saliva in your mouth, bacteria can thrive, which leads to bad odors.
Water is calorie-free! Need some refreshment? Whether you take it sparkling, iced or plain, water can quench your thirst without any added caloric intake.
Water can help clean your teeth. In between brushings, water is one of the most useful dental tools you can use, because it washes away foods and liquids that can damage your teeth. It's not a replacement for brushing and flossing, but it can definitely help.