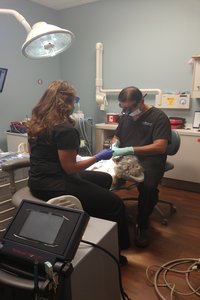 Some people simply do not have enough healthy bone to support a permanent new smile with dental implants. In the past, this meant it was necessary to perform procedures such as bone grafting or sinus lift surgery. At Dental Implant Solutionz in Largo, FL – our prosthodontic specialist trained under the developer of the sinus lift procedure. His extensive knowledge and experience means that our office is able to provide implant support services to patients with even the most complex of needs.
Bone Grafting for Dental Implant Support
Fortunately, there are now a number of supportive procedures that allow us to bypass the bone grafting process completely. Some examples include:
Selection of alternative implant designs
Splinting techniques
Utilizing growth factors and bone proteins to rebuild natural tissues
Thanks to a variety of different implant designs available, we can choose those that are less intrusive to your anatomically challenged areas. The smaller implant means it's often possible to avoid the bone graft or sinus lift altogether.
How to Avoid a Bone Graft or Sinus Lift
Regardless of the complexity of your case, our highly experienced implant dentist has the skills necessary to make your treatment as successful as possible. From minor sinus lifts to more extensive augmentation, we will select the procedure least invasive to your smile, that promotes the most optimal results for your oral health needs.
How Much Does a Bone Graft Cost?
A typical graft can start as low as $395. Grafting can help preserve natural teeth that are damaged by periodontal disease, and add necessary support for your new dental implants. Depending on the type of graft chosen, we can use simple bone particles, synthetic materials, and much more.
Have you been denied dental implant treatment because of anatomically challenged areas of bone loss? Then call Dental Implant Solutionz in Largo to find out if one of our graft options can help!
AUTOGENOUS DENTIN GRAFTING IS A GREAT
 ALTERNATIVE TO BONE GRAFTING
YOUR extracted tooth used for bone grafting
With the use of our Smart Dentin Grinder, we can use the patient's extracted tooth and turn it into an autologous graft within minutes!
BENEFITS OF USING AUTOGENOUS DENTIN GRAFTING
Bone heals fast and soft tissue response
Extracted tooth used for bone grafting
No rejection, inflammation, disease transmission or fast resorption
Enhances implant stability