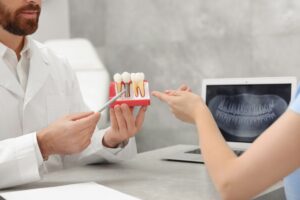 Dental implants are the greatest solution around today to replace missing teeth. By restoring the natural look and feel of your teeth, implants can grant you new confidence in your smile.
Read on for a comprehensive guide to dental implants for modern teeth replacement. 
What Exactly is a Dental Implant?
A dental implant is a titanium post that's implanted into the jawbone to replace one or multiple missing teeth. A crown is secured over the implant to create the appearance of a natural tooth.  [Read more…]