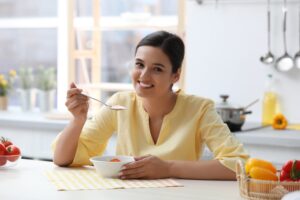 Dental implants are an ideal option for replacing missing teeth. Experts in the industry have perfected dental implant placement, making it an efficient procedure with minimal discomfort. 
A dental implant is a titanium post that's placed in the jaw. After placement, the implant is allowed to integrate into the bone for a period of three to six months before it can be restored with an artificial tooth. 
Once a dental implant has been restored with an artificial tooth, you can effectively chew any foods that can be cut with a fork. However, your options for food are limited for the first couple of weeks after the implant surgery. This limited diet promotes tissue healing for faster recovery.
In this article, we'll discuss the food you can eat after getting a dental implant placed.  [Read more…]