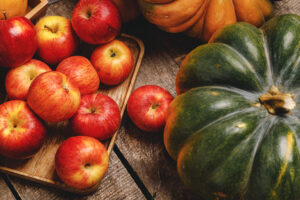 The fall season is upon us, and that means several delicious foods are officially in season. While many treats traditionally enjoyed in autumn aren't good for your teeth, other fall goodies can actually benefit your oral health. 
This fall, make sure to reach for the right foods for your dental health, such as:
Pumpkin
Pumpkin is the quintessential fall flavor. Luckily, it also provides numerous benefits for the health of your mouth. Pumpkin is rich in:
Vitamin A, which helps your mouth produce a healthy amount of saliva to remove bacteria from between the teeth. Vitamin A can also support the healing process for damaged, diseased

gums

. 

Magnesium, which works together with calcium to form a strong enamel on your teeth and prevent

decay

. 

Zinc; consuming enough zinc can help you avoid dental problems including bleeding gums and weak bones.
When you eat pumpkin, don't forget the seeds! Pumpkin seeds are high in nutrients including calcium and phosphorus, which tooth enamel is made up of. These seeds also contain iron, which supports the health of the tongue. 
Apples
Apples are a favorite fall snack with a crisp, crunchy texture. This texture also gives apples the ability to naturally scrub your teeth as you chew, preventing the buildup of plaque and bacteria. Crunching on an apple will also prompt your mouth to produce more saliva, further fighting off bacteria in the mouth. 
Cranberries
This fall, have your family pass the cranberry sauce! Cranberries have a high amount of polyphenols; polyphenols prevent the development of particles that can tooth decay, making them an essential asset to your oral health. 
That said, cranberries are very tart, so cranberry products are often filled with sugar. Instead, opt for 100% cranberry juice with no added sugar, or make your own juice with fresh cranberries. 
If you're struggling with dental concerns this fall, such as missing teeth or gum disease, schedule an appointment at Dental Implant Solutionz for expert treatment!