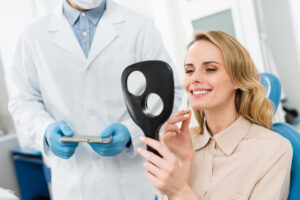 Dental implants are used to replace missing teeth with a prosthetic tooth root that's anchored directly into the jawbone. A crown can then be secured to the root, creating the look and feel of a natural tooth. Implants may also be used to secure a full mouth denture (called a hybrid denture) in place.
While implants are considered the best option for tooth replacement in most cases, many patients worry that the procedure will be painful. Here, we'll discuss the dental implant procedure and what you can expect during the recovery process to diffuse concerns over pain with this restoration.  
The Dental Implant Procedure
The dental implant procedure is performed with local anesthesia. Given that the treatment area will be numbed, you don't have to worry about pain or discomfort during the procedure. Your dentist will then make an incision in the gums to reveal the jawbone, drill a hole, and install the implant. While drilling into the jawbone evokes anxiety in some patients, the jawbone doesn't have any nerves. So, in addition to being under anesthesia, you don't have to worry about the drilling causing pain in the jawbone. 
The Recovery Process
Once the anesthesia has worn off after the dental implant procedure, patients may experience swelling and discomfort. However, your dentist may give you painkillers and antibiotics to manage these symptoms. Within just a few days after the procedure, the pain will start to subside. Within two weeks of the procedure, patients typically have no pain and the treatment area has healed significantly. 
While some pain is expected with any surgery, the dental implant procedure is comparatively straightforward. Most patients consider the pain of the dental implant procedure to be less than that of getting a tooth pulled. 
Dental Implant Solutionz can expertly handle all dental implant cases, no matter the severity. Contact our office today to request an appointment.