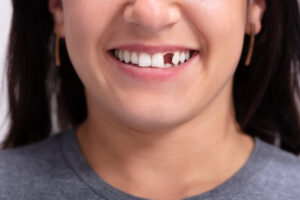 If you're missing one or multiple teeth, dental restorations can rehabilitate your oral health and confident smile. There are several options for patients looking to replace missing teeth, from crowns and dentures to cutting-edge treatments like the Chrome GuidedSMILE. At Dental Implant Solutionz, we're here to help you select the best option to restore your missing teeth so that you can regain a full, beautiful grin. 
The best options for replacing missing teeth include:
Implant-Supported Crowns
For single missing teeth, implant-supported crowns are a great option. During installation, we anchor an implant to the bone of the missing tooth, then place an abutment over it. The porcelain crown can then be secured over the abutment, providing a stand-alone tooth that blends in with your natural teeth. 
Implant-Supported Bridges
An implant-supported bridge is a good choice for multiple missing teeth in a row. A bridge contains multiple crowns that are attached side-by-side. An implant-supported bridge has an implant on each end, providing stability while covering the entire area of missing teeth. 
Hybrid Implant Dentures
In comparison to traditional removable dentures, which are often bulky and uncomfortable, many patients prefer hybrid implant dentures to replace missing teeth. The dentures are anchored on top of dental implants, which secures them permanently in place. But, your doctor can remove them for regular cleanings. 
Chrome GuidedSMILE
The Chrome GuidedSMILE is a viable option for patients with missing teeth who want an alternative to dentures, crowns, and bridges, but still have sufficient bone density for implants. As an innovative step-by-step treatment, your doctor can provide anchored bite verification, bone reduction, site drilling, accurate provisionalization, and the transfer of all surgical and restorative information. By using 3D imaging and established patient records, the Chrome GuidedSMILE creates artificial teeth within a day. 
At Dental Implant Solutionz, we use advanced CT conebeam technology for predictable and comfortable dental implant treatments. To learn more about your options for missing teeth, schedule an appointment at our office today.