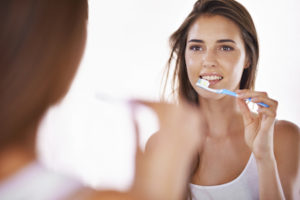 The sad fact is that many teenagers do not have good oral hygiene. Many teens will only brush their teeth when they realize their breath isn't fresh, they have a date, or mom or dad reminds them. This often leads to cavities. While your dentist will do everything they can to save a tooth, sometimes the best remedy for health is an extraction. Leaving gaps in your teen's smile does more than harm their appearance.
Gaps in Teeth Affect Eating Habits
Gaps in teeth can affect the effectiveness of the bite, causing problems with chewing food adequately for good digestion. Too many gaps in teeth can sometimes cause teens to avoid some foods altogether. Since it is already hard enough to get teens to eat a healthy diet, making it more difficult for them to bite into or chew fresh fruits and vegetables is not a good idea. This is just one reason why you should replace missing teeth.
Your Teen is Still Growing
One of the biggest reasons not to let teeth go unreplaced is that your teen is still growing. When a tooth is extracted while growth is still occurring, it causes the other teeth around it to migrate to try to fill the gap. This results in a bad bite, and it can greatly hinder future dental work. It is important to replace missing teeth as soon as possible so your teen doesn't have problems with chewing.
Missing Teeth Contribute to Depression
Many teens suffer from depression and low self-esteem. Anything you can do to boost your child's confidence is an important undertaking. Having missing teeth can make your teen unnecessarily self-conscious. It can also make them a target for bullying. Appearance is extremely important to your teen, so it should also be important to you.
Options
You have many options for replacing missing teeth for your teen. Implants and implant supported bridges can restore your teen's healthy smile and help them live a better life. Contact us today for more information.