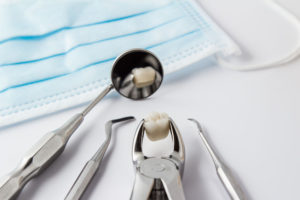 Although no one wants to go through it themselves, tooth extractions are sometimes necessary. There are some important things that you should know about tooth extractions before you head to the dentist. Being prepared for the experience will make it much more easily endured.
Types of Extractions
There are two main types of extractions. A simple extraction is where the dentist will remove the tooth using local anesthetic. You shouldn't feel any pain during the procedure, but you will feel quite a bit of pressure as the tooth is worked back and forth and loosened in the socket. The other type of extraction is a surgical extraction. This may also be done with local anesthetic, or it may be done with general anesthesia. A surgical extraction is usually handled by an oral surgeon, and it requires cutting out the tooth.
Healing from Extraction
There are some important instructions that your dentist will give you when you have a tooth extracted. It is important to follow all of these instructions carefully to ensure that you heal properly. One of the most important things is to avoid sucking movements with your mouth for the first 24 hours after an extraction. Using a straw or smoking a cigarette after an extraction can lead to dry socket, a painful and serious condition.
After Extraction
After a tooth extraction, there are still some things to discuss with your dentist. You shouldn't leave gaps between your teeth. Missing teeth can cause bone loss in the jaw, tissue loss in the gums, changes in your bite, and changes in your appearance. Dental implants are a great way to fill in the gaps left by extracted teeth.
If you need a tooth extraction, contact our office for more information or to schedule an appointment. We will be happy to discuss your options.