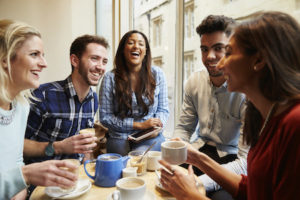 Dental implants are a great way to replace lost or missing teeth. Especially if you just have one or two teeth missing, dental implants are the perfect solution to restore your smile. Dental implants can affect people in many ways, but social butterflies are perhaps the most impacted by a restored smile. Here's why.
First Impressions
Social butterflies are usually the first to introduce themselves to new people in social settings. If you spend a lot of time going to clubs, bars, and other entertainment venues, you are likely to make a lot of first impressions in just one night. If you enjoy talking to other people for diversity, you'll want your first impression to be good enough to warrant further conversation. Having a whole and healthy smile is a part of that first impression.
Getting Dates
Many social butterflies are not quite ready to settle down and may date frequently. Quite simply, you are going to have an easier time getting dates if you have a whole and healthy smile. While stereotypically people look at physical bodily attributes for attraction, the truth is that the eyes and the smile are usually the first things to draw people in.
Present a Picture
Social butterflies are also most likely to show up in pictures. They tend to take more selfies, and they tend to be in many pictures of events and social gatherings. The last thing that anyone wants is an unflattering picture taken for all posterity. Getting dental implants to restore your smile can allow you to be in pictures with confidence.
If you are ready to replace your missing teeth with dental implants, contact us today for more information or to schedule your appointment.