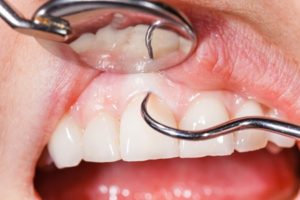 It's scary to consider, but every part of the body is prone to disease in some way. The mouth is no exception, but there is a piece of good news to remember: if you can recognize the signs and symptoms of gum disease in its early stages, you can take strategic measures to restore health to your mouth and prevent your gum disease from progressing.
Early Gum Disease: Gingivitis
Gum disease, formally known as periodontal disease, begins in the form of gingivitis. Poor oral hygiene is the leading cause of gingivitis since skimping on brushing and flossing allows plaque to build up on the gums and in-between the teeth. That plaque eventually hardens under the gumline and turns into tartar, which attracts bacteria and cause irritation along the gumline. As a result, gingivitis is defined by red, swollen gums that bleed easily.
However, since gingivitis doesn't cause significant discomfort, it's all too easy to ignore its symptoms. If you smoke, have dry mouth, struggle to get enough nutrients in your diet, or have a condition that diminishes your natural immunity, gingivitis is an especially serious threat. Pay attention to the appearance and health of your gums. If you don't visit your dentist in a timely manner to treat your gingivitis, it will progress into periodontitis.
Advanced Gum Disease: Periodontitis
Periodontitis is a more serious form of gum disease that is also much harder to reverse. The plaque and tartar that forms during the gingivitis stage begin producing toxins that stimulate a chronic inflammatory response in your body. Over time, your body essential turns against itself and begins destroying your own gum tissue and jawbone!
The symptoms of periodontitis are more intense than the symptoms of gingivitis. Your gums won't just be red and swollen; they will become inflamed, closer to the color purple, and painful to the touch. You will also notice your gums receding and causing your teeth to look longer. This creates extra space between each tooth as well.
Other signs of gum disease include pus between the teeth and gums, chronic bad breath, and loose teeth. Your bite might feel different because your teeth will start to shift or fall out. If left untreated, periodontitis will cause severe damage to your mouth and increase the likelihood of other health complications.
If you suspect that gum disease is taking its toll on your oral health, call (727) 202-4926 to schedule an appointment at Dental Implant Solutionz in Largo, Florida. Dental Implant Solutionz is proud to offer Laser Assisted New Attachment Procedure (LANAP) to sterilize infected gum tissue, destroy bacteria, and give your gums a chance to recover from disease. Gum disease is a serious threat to your well-being, so don't procrastinate on seeking treatment!