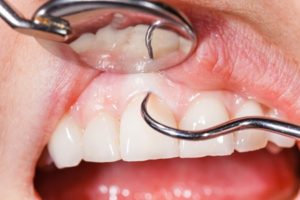 Periodontal disease is a serious health condition that shouldn't be ignored. Thanks to advanced modern technology, gum disease can be stopped in its tracks – without gum surgery! – if you seek treatment quickly. Laser Assisted New Attachment Procedure (LANAP) is an innovative laser treatment designed for patients battling periodontal disease. Here is everything you should know about the procedure that can save your smile.
What Should You Know About Gum Disease?
Periodontal disease is an infection of the structures that support and surround your teeth. Warning signs of periodontal disease include gums that bleed easily, gums that have pulled away from the teeth, loose teeth, change in bite, and persistent bad breath. If this condition isn't treated, it leads to the rapid loss of tissue and bone throughout the mouth, which causes widespread tooth loss and places you at higher risk of other diseases.
LANAP Regenerates the Mouth
LANAP is FDA-cleared to offer a less painful and more successful alternative to the conventional surgery used to treat periodontal disease. It sterilizes infected gum tissues, destroys bacteria, and helps healthy gums reattach to the teeth in a short period of time. LANAP is actually the only scientific, research-proven methodology to achieve true periodontal regeneration. Since it can target inflammation without harming healthy gum tissue, this treatment can be used to slow or even stop the oral damage caused by periodontal disease.
LANAP Is A Natural Alternative to Gum Surgery
Invasive surgery has long been viewed as a necessity to treat serious conditions like gum disease, but LANAP is changing the game. LANAP reduces the risk of gum disease with significantly less pain, bleeding, sensitivity, gum loss, swelling, downtime, and post-op infections when compared to surgery. Of course, LANAP isn't only valuable for ease of use; it also attacks gum disease at its source and regenerates and heals your gum tissue.
Dental Implant Solutionz in Largo, Florida is proud to offer LANAP for all patients battling periodontal disease. Call (727) 202-4926 to make your first appointment with Dr. Tadros today and finally liberate your mouth from disease.