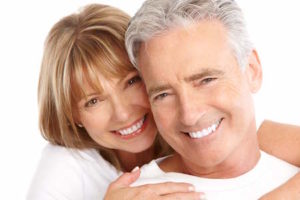 Dentures don't have the best reputation for creating a natural and comfortable appearance, but all of that is changing thanks to new floss-able hybrid denture technology! Begin rethinking your old assumptions about dentures, because new floss-able hybrid dentures offer the most realistic and natural appearance possible!  If you are looking for a denture solution that provides aesthetics and function combined, look no further than floss-able hybrid dentures.
A Quick Introduction to Hybrid Dentures
The most common complaint among patients with dentures relates to the shifting, rocking, and rubbing that occurs with traditional dentures. Since normal dentures rest on top of the gums but are not attached in any real way, they often come loose or shift as you chew, talk, and smile. Hybrid dentures solve this problem because they are anchored by dental implants.
Implants are strong titanium screws that are placed directly through your gums into your jawbone. They fuse with the jaw to replace missing tooth roots, then provide an anchor above the gumline upon which dentures can be affixed. This means your dentures will remain perfectly in place in your mouth, but can be quickly removed by your dentist if a problem occurs.
Unique Floss-able Hybrids: What Should You Know?
Floss-abe hybrid dentures are a new innovation offered at Dental Implant Solutionz in Largo, Florida. Using high precision CAD/CAM titanium substructures, an incredibly realistic gingival composite, and zirconia crowns, these dentures are placed individually for the most natural appearance possible!
Unlike traditional dentures that create a noticeable imbalance between crowns and tissues with opaque pink plastic, floss-able hybrid dentures are created with ultra-realistic layered composite that is nearly indistinguishable from natural tissue. You can finally feel confident with your dentures in your mouth!    
Feel Proud of Your Smile
Floss-able hybrid dentures replace your missing teeth, restore your ability to talk, chew, and smile normally, and give you a full set of teeth that you are happy to show off. Thanks to their streamlined shape and maximum aesthetic impact, hybrid dentures make an excellent choice to resolve your tooth loss.
Dental Implant Solutionz in Largo, Florida is proud to offer floss-able hybrid implant dentures that are not only attractive and reliable, but also affordable. Thanks to special CT cone beam technology, the procedure is even virtually painless! Call (727) 202-4926 to make your first appointment and restore your mouth back to health.