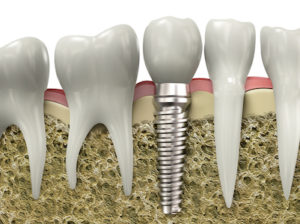 Thanks to significant dental advancements over the past few years, replacing missing teeth in your mouth has never been easier. Far from being limited to one option, you can work with your dentist to select the oral solution that is perfectly customized to your needs. For many patients, a single implant is the best solution to replace a lost tooth, restore an attractive smile, and protect the form and function of the mouth. Here's everything you should know about using a single-tooth implant for yourself.
How Do Implants Work?
Dental implants are actually titanium posts that are carefully inserted into the bone where your tooth used to be. Titanium is a durable, versatile and safe material that fuses with the jaw bone over the course of a few months. This forms the "root" of the tooth, and after the gum has fully healed from the implants, impressions can be made to design a crown that is fixed into the implant and identical to a natural tooth.
A Single-Tooth Implant Will Complete Your Smile
If you lose a tooth or have it extracted, you don't want that tooth to remain permanently missing from your mouth. In addition to the visible gap it leaves, a lost tooth also reduces your ability to chew food and stimulate bone growth in the jaw. Since teeth and their roots act as supports for the jawbone, the bone tends to deteriorate and lose its strength and firmness once teeth fall out or are extracted. Implants restore the support that the jawbone needs, stimulate further bone growth, and prevent future bone loss.
A Single-Tooth Implant Will Protect Your Other Teeth
Teeth are meant to exist with others, side by side. Even just one missing tooth can cause shifts in teeth and other aesthetic and functional issues. By replacing the tooth that is missing, a single-tooth dental implant will keep other teeth firmly in their position in the gums.
Furthermore, a single-tooth implant is preferable to a bridge or other non-implant solution since gums can recede around a bridge an leave a visible defect in the mouth. Bridges also cannot offer the ability to stimulate and support bone growth like implants.
If you're tired of living with an incomplete smile, all you need to do is call Dental Implant Solutionz at (727) 202-4926 to schedule an appointment with Dr. Tadros in Largo, Florida. Dr. Tadros specializes in cutting edge implant procedures and technologies in order to make your mouth whole once again.