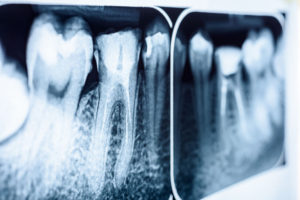 Your permanent teeth are meant to fulfill their functions throughout your entire adult life, but that is not always the reality. If your oral health has been compromised by a broken, decaying, and damaged tooth, you have a few options to eliminate your pain and restore your dental wellness. It is possible that your tooth could be treated with a root canal in order to keep that tooth in your mouth without further damage. If a root canal is not a plausible option, you may need to have your tooth extracted.
When Can a Root Canal Save a Tooth?
A root canal is often necessary when a tooth becomes deeply infected and inflamed due to dental decay. A root canal prevents further damage by removing the infected nerve and pulp out of the center of the tooth. Once that soft tissue is removed, your dentist cleans the space, fills it with a material called gutta percha, and seals the top to prevent bacteria from entering.
Since there is no true replacement for your natural teeth, many patients opt for a root canal in order to eliminate the infection portion of the tooth and maintain the tooth's structure within the mouth. As long as the tooth is strong enough to undergo this procedure, it is worth trying to save your natural smile.
Early root canal procedures were crude, to say the least, but we now live in a world of infinitely innovative technology. Such advancements have helped to make the root canal procedure simple and relatively painless. Anesthesia helps you feel comfortable and relaxed during the procedure itself, and the efficient technology used helps to minimize recovery time and swelling afterward. Rather than feeling more pain after your root canal, you will actually feel much less since your tooth pain will disappear!
When Is Extraction Necessary?
Though a root canal procedure can save teeth in many situations, sometimes extraction is the only realistic option. According to the American Dental Association, trauma, disease, and crowding are all potential causes of tooth extraction. In the case of disease and decay, teeth are not eligible for a root canal – and must be extracted – if a cavity has compromised too much of the tooth's structure or a crack extends below the gumline.
The only way to determine the fate of your tooth is to visit a dentist for a professional exam. At Dental Implant Solutionz in Largo, Florida, Dr. Sam Tadros, DDS will explain your options and do everything possible to save your natural teeth. Call (727) 202-4926 to schedule your appointment now.