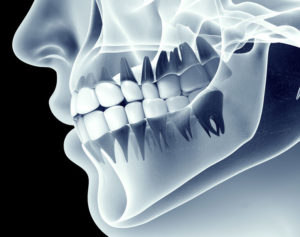 If you have decided that dental implants are the best option for you, the next step is to determine if you are a good candidate. One of the problems that usually stops people from getting implants is bone loss in the jaw. There are several different things that can cause this bone loss, but thankfully there is a possible solution.
Causes of Jawbone Loss
Jawbone loss is usually the result of dental conditions, although it can also be the result of illness or trauma. The most common things that cause dental bone loss are:
Missing teeth—If you have had one or more teeth extracted due to necessity or a lack of access to better dental care, those missing teeth can cause additional dental problems in the form of bone loss. Your teeth help your jaw maintain its height and shape, and without them it can deteriorate.

Dental appliances—Partials, dentures, and other dental appliances designed to replace missing teeth can also wear down the jaw bone. This is due to the fact that these treatment options don't allow for protection of the jaw bone, and in many cases sit directly on the gums where they can wear the gum and the bone away.

Gum disease—The most common cause of bone loss in the jaw is periodontal disease, also called gum disease. The term is actually a misnomer because the condition doesn't just affect the gums; it affects the jaw and teeth as well.
Can you get a dental implant if you have jaw bone loss?
Yes! With a bone graft, you should be able to get a dental implant that will not only restore your bite and your smile, but will also prevent further bone loss. If you are ready to make your appointment, contact us today.