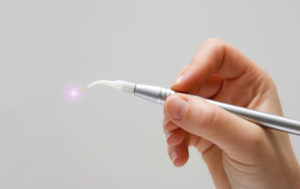 Gum disease can be a very serious condition that affects the overall health of your mouth. When gum disease strikes, it pulls the gums away from healthy teeth, leaving them unprotected and prone to infection and tooth loss. Advanced periodontal disease can even affect the jaw, which can impact your candidacy for dental implants and other solutions for missing teeth. It is best to treat gum disease as soon as it becomes apparent.
Today, there are some new treatments for gum disease. One of the most technologically advanced treatments is laser surgery for gum disease. Laser surgery is able to treat gum disease by eliminating harmful bacteria that causes infection while also prompting the gum tissue to reattach to the healthy teeth surrounding the area. Laser dentistry can help save your gums and your teeth and improve your overall health.
Laser surgery for gum disease is a fairly new treatment. Dr. Tadros has been performing this surgery in his office since 2011, which is just eight years. The treatment has only been popular in the last decade. Because it is a newer treatment, many dentists are not quite using laser dentistry to treat gum disease on a regular basis, yet Dr. Tadros is one of the few dentists in the area that is a proficient expert in this type of dental laser surgery.
If you are battling gum disease and looking for new treatments to help, contact us today for more information about laser surgery for gum disease. We can schedule an appointment for an examination and to discuss your options.