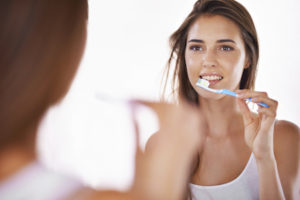 Don't be fooled into thinking that only your skin, heart, and lungs are prone to disease as you get older. Your teeth and gums are also vulnerable to damage, especially if you neglect proper oral care habits or eat too many foods that trigger decay. Use these tips to prevent gum disease and safeguard the health and integrity of your mouth.
What Should You Know About Gum Disease?
Gum disease does not form instantaneously. It develops over time in stages. This means that gum disease can often be prevented and minimized with simple diet and lifestyle changes.
Gingivitis is the first stage of gum disease that is defined by red and swollen gums that bleed easily. This is a common condition that can be easily resolved with improved brushing and flossing habits. The damage is reversible as long as the bone and tissue holding the teeth in place are not impacted.
However, if gingivitis is not resolved, it will advance into a more serious version of gum disease called periodontitis. This final stage of gum disease destroys the gum tissue and underlying bone structure that is needed to support the teeth. [Read more…]