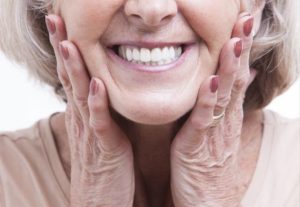 Modern dental innovations make it easier than ever to replace damaged or missing teeth with replacements that look and feel completely natural, but your dentist will always strive to save your natural teeth when possible.
There are three main benefits that real teeth offer, and it's wise to protect them if you can!
Minimize Bone Loss
As soon as a tooth is removed, the jaw bone loses stimulation in that area. Every time you chew, talk, or bite, your teeth send vibrations to your jaw bone that stimulate regeneration and support ongoing bone health. Of course, missing teeth cannot perform that function.
Your dentist will work hard to save your natural teeth before removing or extracting them in order to preserve as much jaw bone strength as possible. The effects of jaw bone loss include sunken cheeks, misaligned bite, change in facial appearance, and difficulty chewing and talking. [Read more…]